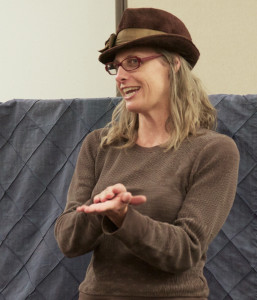 If you read our Herstory page, that third grade girl was Andee Kinzy. She is the Founding Director of both ImprovEd Shakespeare and Girl Improved, projects that educate and empower youth in the creative arts and fall under the umbrella of ImprovEd Arts. She has been working hands-on with kids since 1988. Her 2003 niche short film, "What Is It About Hats? A Documentary About the People Under the Brim," has screened at millinery conventions and hat-related exhibits around the world. Before moving back to Austin, home of her alma mater, University of Texas (BA Drama), she was the president of the non-profit women's film organization, CineWomen NY, which has since absorbed into NY Women in Film and Television. Now she writes, produces, and directs multiple youth theatre productions each year in addition to creating web videos that document and market the process of working with kids.
Bonus Traits
Andee was part of a collective of filmmakers in NYC called QuickFlicks, where each member made a movie-a-month and met to screen and review the films. This was before smArtphones.
Andee can sew her lip.
Andee loves, loves, loves to read fiction. It's a form of relaxation for her. Mostly novels about dystopian futures, historical fiction, science fiction or fantasy.
Andee is missing her right foot's big toe's nail. It was stepped on by her horse when she was in middle school. And then she got it caught in her bicycle spokes. After that, the toenail gave up on existence.
Save